In 1994, Barbara Myrvold and Lynda Moon co-authored "A Historical Walking Tour of Lawrence Park".  Copies of the book are available through the LPRA.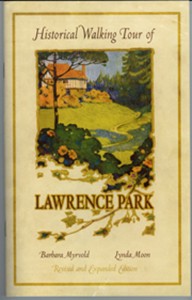 If you would like to order a copy, please email President@LPRA.ca to make arrangements to get a copy.  The cost is $10.00 (payable to Lawrence Park Ratepayers' Association).
Walking tours run regularly through the neighbourhood. Watch for notices of upcoming tours!