We have an active community group hosting conversations and speakers on the history of our neighbourhood, the Heritage Committee. These volunteers work to celebrate our history including through publication of our History Nuggets, host neighbourhood gatherings to celebrate our century homes, and research the history of homes in Lawrence Park.
A SHORT HISTORY:
Lawrence Park was developed by Wilfred Servington Dinnick around 1914.
It was envisioned as a "garden suburb", planned for low or moderate density, with gardens and open spaces and residential development. Homes were designed for fit harmoniously into their surroundings.
The subdivision plan has straight long streets with winding crescents, circles and cul-de-sacs. The lots provide space for a good-sized house, a garage and a garden. The plan preserves the natural landscape with ravines, parks and a stream. Lawrence Park was completely developed by 1950.
Lawrence Park has been home to prominent Toronto families over the years including Architect Eric Arthur, group of seven artist A.J. Cason, astronaut Roberto Bondar, athletes Gary Roberts, Jim Elder and lawyer Douglas Hart.
Lawrence Park is located east of Yonge Street, south of Lawrence Avenue, west of Bayview Avenue and north of Blythwood Avenue.


STORIES FROM OUR NEIGHBOURHOOD:
The Casson home: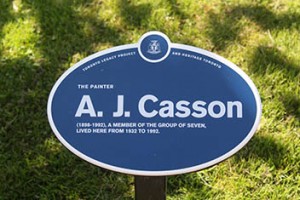 Have you seen the sign on the lawn at 43 Rochester Avenue?  This addition, an initiative of the Toronto Legacy Project and Heritage Toronto, arrived in the summer of 2013.  It reminds us of the deep history of our neighbourhood.
So what is the story behind the house?
The home was originally built and then lived in for over sixty years by A.J. Casson, one of Canada's most acclaimed artists.  It was subsequently owned by the Waqué family who updated the home to meet their needs yet tried to honour the home's history.  The front of the house remains substantially unchanged, apart from the addition of shutters on the ground floor.  And the walk up to the front door is original, boasting beautiful, large pieces of Credit Valley flagstone and a charming wrought iron railing.  In the back there is a trellised rose that has been growing there since Mr. Casson's time.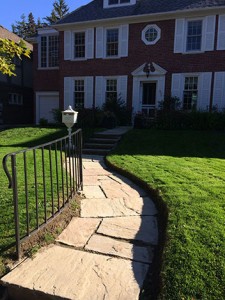 Shortly after moving into their new home, a photocopy of a thank you note written by A.J. Casson on letterhead featuring a line drawing of the house, presumably drawn by Mr. Casson, was given to the Waqué family. A perfect housewarming gift!

Inside, the studio in which Mr. Casson painted all his large canvases and many of his commercial pieces is substantially unchanged (his "Help Finish The Job" prize winning work is just one of the many pieces created there).  The large studio window faces north (looking out over the driveway and on to Rochester), providing ideal working light for an artist.  Mr. Casson's daughter remembers him painting late into the night, smoking constantly, in that studio.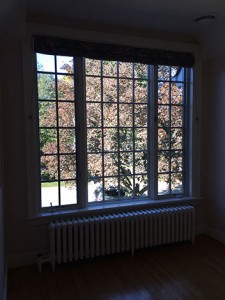 Lawrence Park is full of stories.  If you have any you would be willing to share with the neighbourhood, please email us at communications@lpra.ca.  Many thanks to the Waqué family and Mr. Casson's family for their help in putting this together