Sensible development is in our interest. We can improve the city and our neighbourhood with good development decisions.
The neighbours pay for development mistakes. The developer does not have to live with those mistakes.
---
49-51 Lawrence Avenue East, 84 Weybourne Crescent -Toronto Official Plan Under Attack!
The Lawrence Park Community Preservation Initiaitive (LPCPI) believes in good planning and supports redevelopment in the neighbourhood. An Apartment Building complex proposed to flank Weybourne Crescent is not good planning!
Developers, Bill Gairdner and Kevin Chang have applied to redevelop 3 lots from the Historic Original plan of Lawrence Park to replace 3 single-family homes with two apartment buildings. These Apartment Buildings are to be built on the south side of Lawrence Ave. E. between Weybourne Crescent and St. Edmund's Drive. They have asked for an amendment to the Official Plan of Toronto and to the Zoning by-law relating to this site.
The proposed Apartment Buildings in a nutshell:
2 buildings back to back fronting Lawrence Avenue East and Weybourne Crescent
17.5 M high (Bylaw permitted height is 10M)
22 units of 3 and 4 bedroom apartments,
Total Floor Space Index 1.7 (Bylaw permitted is 0.6)
Covered Parking Garage
Garage Exit and all services on Weybourne Crescent - an 8 M wide side street
Set 3 M Closer to Lawrence and Weybourne than the surrounding buildings on those streets
Skybridge linking 2 buildings
Details on the proposal including the preliminary report from City of Toronto Planning can be found by clicking here.
These Apartment Buildings will dramatically affect the character of the neighbourhood along Lawrence Avenue East and set a dangerous precedent for development all along both Lawrence Avenue East and Mount Pleasant Road. This is a gem of a location in North Toronto. It a block from the library, park, and ravine, in the Lawrence Park neighborhood.  This location deserves a gem of a development.
This proposal is not good planning and does not fit with, respect or reinforce the local neighbourhood. Check out the difference in the the comparison of current and proposed developments below.

This application has been appealed to the Ontario Municipal Board (File Number PL151111) effectively circumventing the City planning review process. Information on the OMB hearing can be found here.
If approved by the OMB, this development will radically alter the streetscape of Lawrence Avenue East and Weybourne Crescent.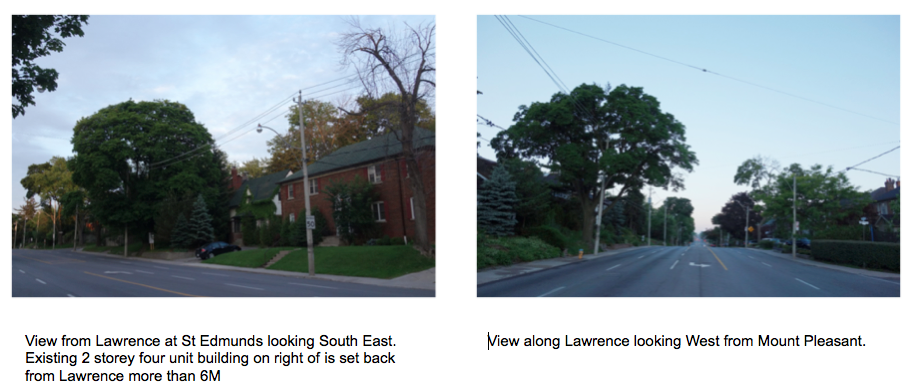 That's why we care.
---
How to...
Help Support Good Planning:
Contact City Planning to ensure the City defends the official Plan at the upcoming OMB hearing: Share your concerns with Guy Matthew, the City Planner with carriage of this application. He'll be writing an OMB Directions Report that will be before Community Council prior to an OMB Hearing. You can reach Guy at gmatthe2@toronto.ca (please copy Ward 25 Councillor at councillor_robinson@toronto.ca and the local ratepayers association at Development@LPRA.ca).
Donate to our OMB Defense Fund: A group of concerned neighbours have already contributed in an effort to stop this proposed development from becoming a reality and ensure it is modified to fit better in the existing context. Now we are asking the rest of the community for help. You can send a cheque (payable to Lawrence Park Community Preservation Initiative) to our treasurer at:
LPCPI, 77 Weybourne Crescent, Toronto, ON   M4N 2R6
or e-mail lawrenceaveeastsgp@gmail.com to either e-transfer a donation or arrange for us to come by and pick up a cheque.
Let our politicians know your view: email Mayor John Tory at mayor_tory@toronto.ca; email Premier Kathleen Wynne (our local MPP) premier@ontario.ca.
Check out other helpful links: City page with all reports / OMB link to hearing page / 200 Keewatin density creep / Map of our Ward (25) with proposed development noted.